Welcome to Net-Gun.com. Your direct online source for the Super Talon Net Gun. We have net guns in stock and ready to ship. Please see the links to the right for details, specs and ordering info.

The Perfect Tool For Animal Capture — and Self Defense!

Whether it be for hunting, animal rescue, or simply to capture your own pet, a net gun may be the only tool you'll ever need. Need an alternative to darts? Get a net gun. Need to rescue a bird that got entangled? Grab a net gun. Have a pet that always thinks you're trying to play tag with it and darts every time you get close? Grab a net gun.

Net guns are the perfect tool for capturing animals because once you have them rapped up in that net they're not going anywhere! Net guns are becoming increasingly popular for people in the animal capture industry especially now that there's a model available that is within reaching distance of our budget and that does not require any special license or permit to operate.

The Bureau of Alcohol, Tobacco and Firearms has classified the net gun as a "tool," rather than a "firearm," as it operates on compressed air and not gun powder like other models available. But you may still want to check with your local governing agency just to be sure. The new Net-2000 model is available at net-gun.com. This model was virtually unknown until it was featured on the hit MTV show Rob & Big as part of a marketing campaign from the manufacturer back in 2008.

Since then it's popularity exploded and now it seems like everyone who saw that episode wants to get their hands on one but mostly for the wrong reasons like netting their buddies for fun as portrayed on the show.

The net gun is not only limited to animal capture. Some law enforcement agencies throughout the US have adopted the net-2000 net gun for security purposes as in riot control and capturing fleeing suspects.

Another practical use is for catching shoplifters who tend to run when confronted. They won't get far with a huge net rapped around them.
It is NOT considered as a weapon or gun. It does not involve gun powder, explosive or other dangerous materials.
Capture distance is up to 20 meters.
Product weight: approx 1 kg.
Powered by: Non-threaded 16g CO2 Cartridges (sold separately).
The net are re-usable and re-packable.
Suitable for: zoo staffs, council animal control officers, animal research organisations, building maintenance staffs, etc.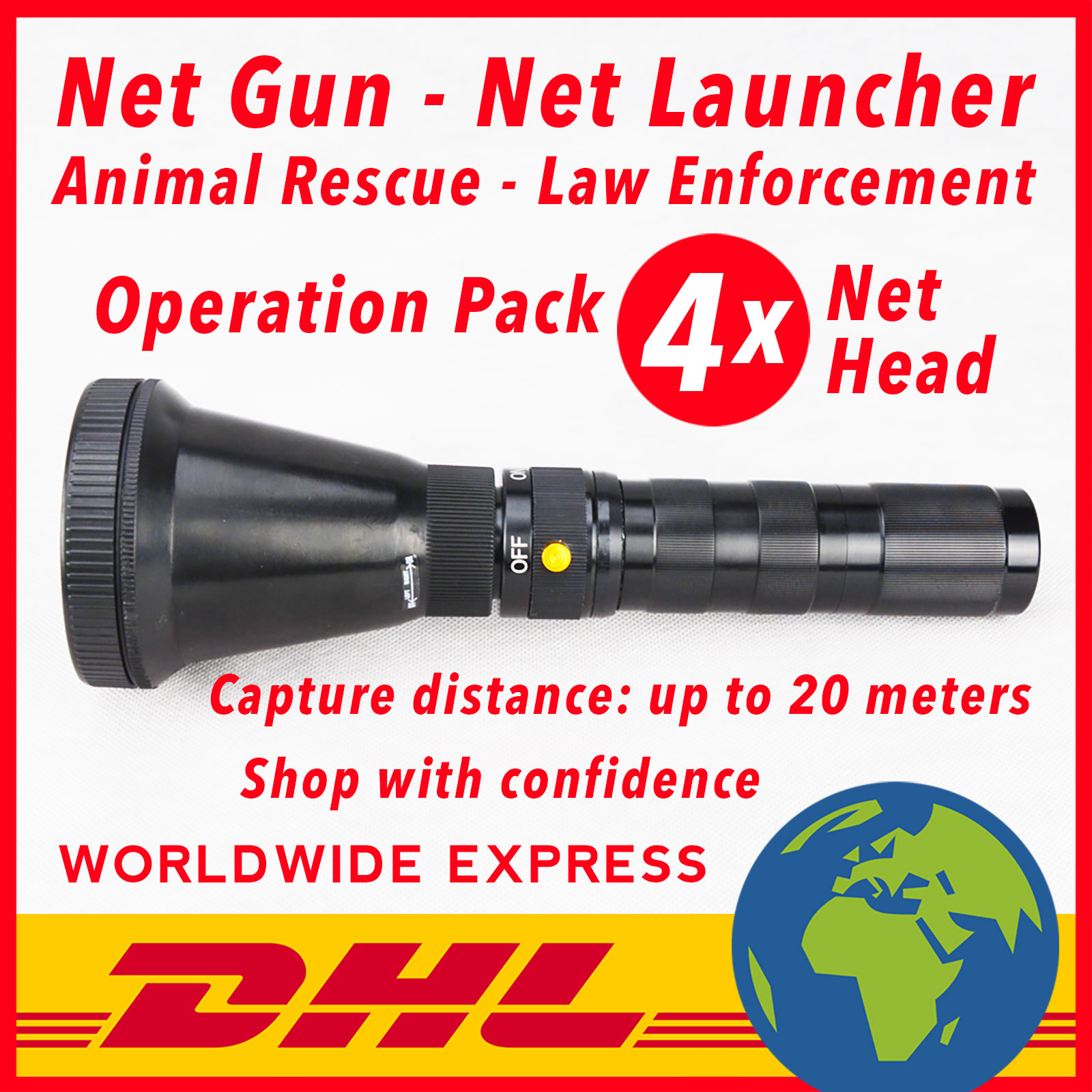 View More Images & Videos
Buy Now
CO2 Cartridges
You need to purchase CO2 separately. Make sure you use non-threaded and 16g version. You may damage the product if you use the threaded version.
It is available widely at leading bicycle stores (cyclist use it to Inflate a bicycle tire). You may also find it on eBay.
Usually it costs around $1.3 to $2.2 per cartridge. If you have difficulties to find local suppliers, feel free to contact us, we'll try our best to assist you.
More Details
Capture distance: up to 20 meters
Coverage space: 16 square meters
Product size: 118 mm (head) x 48 mm (handle) x 338 mm (length)
Product weight: 1.03 kg
Packaging size: 46 cm x 32 cm x 20 cm
Packaging weight: 4.3 kg
Traction head quantity: 4
Power delivery: air bottle / compressed air via co2 cartridge
Air bottle pressure value: 2.8 +/- 0.2 mpa
Government, Education or Corporate Clients
If you need a formal quotation or payment via bank transfer, please email us at support@net-gun.com. If you have any questions feel free to contact us.
For large orders, we provide volume discounts.
Download
If you have any inquiries feel free to contact us (
support@net-gun.com
). Our team will try our best to respond as soon as possible. Thank you.
More Images & Videos